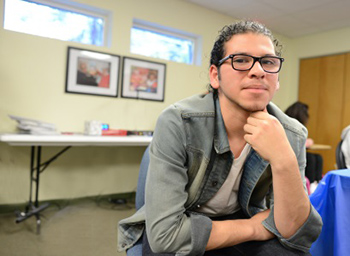 I thought that just maybe, with the hustle and bustle of life at home, with the school's emphasis on standardized tests, and with the often uncertain future plans of teens and adults, it would be easy to lose sight of this year's "transition goals" or to disregard their importance.
Why don't we take a step back and refocus on the purpose of transition goals. This process of refocusing is simple and, might I add, refreshing. It reminds us of what is truly important, and it allows for your individuality, your strengths and weaknesses.
Because at the end of the day, the school day for instance, your flourishing adult life will be based on more than passing Geometry, the acquisition of a foreign language, or even the ability to manage life independently. To be clear, the purpose of transition services is more than a final push to ensure academic success and ensure the possession of the entire blindness-specific Expanded Core Curriculum.
Instead, the purpose of transition services for you who are blind or visually impaired, with or without multiple disabilities, is to prepare for a satisfying adult life. Let that sink in.
The first goal of transition services, therefore, is to recognize what you will find satisfying as an adult. To identify what you will find satisfying as an adult, begin by asking yourself these questions:
What leisure activities would I enjoy as an adult?
How can I be active in my community?
Where would I want to live? (Parents of children with multiple disabilities, think about types of living situations).
What job would be a good fit for me? (Parents of children with multiple disabilities, think about specific jobs as well as types of employment options).
Who can be in my circle of support in adulthood? (This includes family, friends, and any support needed to attain a job or independent living.)
After realizing your personally satisfying objectives, the second goal of transition services is identify barriers to your ambitions. Third, you and members of your transition team should identify necessary training, tools, and community supports that will enable you to live that satisfying adult life.
Because I'm sure you'll want to make money in order to have a home or apartment, pay for food and activities, and save for a secure future, your journey to a satisfying adult life will include work. Utilize APH CareerConnect resources such as Exploring Careers, Finding a Job, and Succeeding at Work to assist you on the path to a career. Register with CareerConnect and begin preparing today.
If you are reading this blog on behalf of your child with multiple disabilities, utilize AFB FamilyConnect's The Future Starts Now section of transition-related resources.
*These questions are based on the Florida Department of Education's Dare to Dream: A Guide to Planning Your Future.