Liz Eagan on Career Education Activities
Recently CareerConnect learned of some unique things that teacher of the visually impaired, Liz Eagan, does with her students. We decided to interview her and share her tips and insight with other teachers.
If you would like to share your own trials and triumphs of teaching transition please let us know. We would like to hear from you too. Simply email us at connectcenter@aph.org.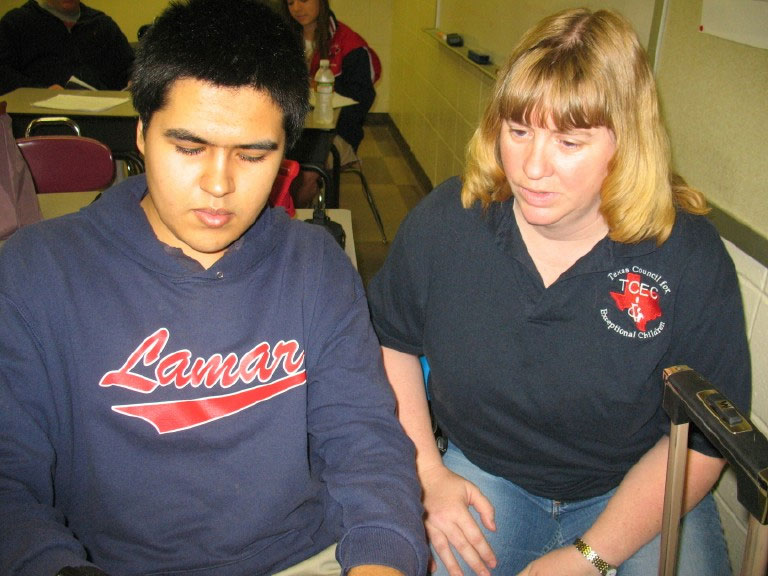 Caption: Liz Eagan and Student
CareerConnect: Please describe for us some of the typical career education activities that you have your students do routinely.
Liz: One of my favorites is to do a "scavenger hunt" of the CareerConnect website. I have my students look for a tip sheet using "What Employers Are Looking For", find where to locate the mentors, see what information is listed under assistive technology, find out how much it costs to join/become a registered user (I am truly evil here as it costs nothing!), check to see what is in CareerConnect Headlines, and so on.
A second activity I like to do is use the tips sheets as a study guide for some role play activities doing interviews. I recruit fellow teachers, friends or others to play the "prospective employer" and conduct mock  interviews. The students are then given feedback on speech, manners, grooming, clothing and other social skills.
Additionally, I take students into the community to learn about banking, grocery shopping, tour colleges/universities, drug stores and public transportation. They also get the opportunity to interview a professional in a career of their choice, apply for employment, and do resume building. This is great exposure and the older students also have the opportunity for mentoring a younger student with a similar visual impairment, and the list goes on.
CareerConnect: How do you use CareerConnect to motivate your students to become active learners?
Liz: I like to have my students read the Success Stories. A lot is there and this information provides motivation that I, as their teacher, can't give them. Without focusing on the disability which seems to handicap us, they are able to read about others with similar abilities as theirs and what they were able to do. I always challenge them to be one of the next Success Stories on there!
CareerConnect: What sections of the CareerConnect website do you find the most useful when working with your students?
Liz: The most useful sections are the ones that contain the tip sheets, the Mentor Search engine (this always surprises them when they see how many people are out there living their dream), Teen Connect (the message board for teens with vision loss) and the articles under CareerConnect Headlines.
CareerConnect: Can you tell us what your students most enjoy on the site?
Liz: To be honest, it seems to be Teen Connect and the other Message Boards and the tip sheets; they like the tip sheets as, according to them, it was created by "someone who knows" and not by me, their teacher.
CareerConnect: What do you find especially helpful about this program?
Liz: Honestly, it's the entire site! There is so much knowledge and help for students, families, and teachers….basically, anyone who wishes to come to the site and access the different areas of knowledge and information will definitely gain from it. Once you start looking through the site it becomes addictive and you can't stop waiting to see what's next. Just when you think you've seen everything, nope! There's something else.
CareerConnect: Which area of the site is your favorite and why?
Liz: I guess I'd have to say that my favorite area would be wherever the tip sheets are found. There are many tips throughout the site for exploring careers, finding job leads, getting hired, contacting a mentor and much more. I am famous for giving my students tips and tricks to help them out in the community, at home, and at school. Some days my brain just can't think fast enough and CareerConnect always seems to have something to help fill that gap!
CareerConnect: If you had to name just one, what CareerConnect activity do you feel has had the greatest impact on your students?
Liz: The greatest impact has to be the diverse
https://exchange.usa.net/exchange/dbannisterafb.net/Drafts/?Cmd=new
Success Stories. My students get to read about how someone followed their dream and made it happen. And that's exactly what I want for my students; to follow their very own dreams and have a vivid vision of what can come if they develop the right habits to make it happen! (Everyone should take note of the various reading options in the Success Stories section and let their students use it to help form a vision of what the future could look like for them.)
CareerConnect: Do your students connect with mentors?
Liz: At this time, no. That is not to say that they won't in the future or that learning about the mentors hasn't been helpful. I do have one student, though, who has a mentor through NFB. He chose this as he wanted someone he could talk to over coffee or meet with in person.
It may be of interest to your readers to know that my students mentor each other. I have my high school students mentoring middle school kids and middle school kids can even mentor the younger ones. Once they've graduate from high school the bonds they developed through the mentor-mentee process seem to stick and they stay in contact with their protégés still in school. It's been a cool process to watch.
CareerConnect: What do you think is the greatest challenge facing your students by way of having a successful career?
Liz: The greatest challenges facing my students are those that come from all the nay-sayers. You know the ones who constantly tell my students that they can't do something because they are disabled. And sometimes there's the occasional family member not willing to let go and allow the student to grow and mature. As well, I have to find ways to stimulate those students who lack internal motivation which can be the biggest dream killer of all.
CareerConnect: What role do parents play in any of the CareerConnect activities you do with your students?
Liz: I have the student and/or families complete Dr. Wolffe's Transition Competencies Checklist and use that as my guide to facilitate the student on their road to independence.
Homework research activities are also sent home and the student is expected to complete the activity with their parent or guardian. Their parent/guardian has to sign off that they did the activity with their child. For instance, I might ask, "How many sections are in the navigation guide and what are three career options?"
CareerConnect: What would you like to share with your colleagues about using CareerConnect as a transition tool? 
Liz: Just simply that CareerConnect is truly a wonderful tool to help jump start a transition program or to supplement what you are already doing. It doesn't require a lot of time. Go through the site a few times looking at whatever is of interest. Next time, let a student 'drive' and see where that leads them. You'll be amazed at the conversations the website can create. Basically, I would tell them that in their VI toolbox for the Extended Core Curriculum…this is a must have!