Denna Lambert Successfully Launches Her Career at NASA As a Visually Impaired Project Manager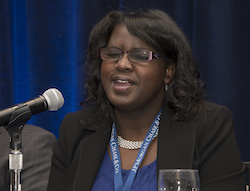 When the movie Hidden Figures premiered in 2016, Denna Lambert was excited, encouraged, and inspired. This film featured African-American women in the field of math and science, making major contributions to the National Aeronautics and Space Administration, popularly known as NASA. Since 2004, Denna Lambert has launched a successful career working at NASA. She works at the Goddard Space Flight Center located in Maryland. It is one of NASA's 10 field centers and focuses on earth and space science.
But before coming to NASA, Denna lived in Little Rock, Arkansas, where she grew up visually impaired. She has congenital cataracts that run on her father's side of the family.
"My dad had congenital cataracts but didn't realize it until fourth grade when he went to a school for the blind," she explained. "My parents were able to address it much earlier for me, and I have some remaining vision. I can use some large print but do use a screen reader and braille."
Going to School As a Visually Impaired Student
Denna said she attended regular public school and also attended summer programs at a school for the blind, even though her father was not in favor of it.
"My dad didn't have the same experiences I had because of segregation, and he was fearful that it would be the same for me," she shared. "But he got advice and made sure I got my resources and the things that I needed."
Denna said that even though she received accommodations and a teacher of students with visual impairments, it was still tough being the only blind student in her class. And so going to a school for the blind during the summer helped. These experiences were just the beginning because soon after Denna would have even more challenges in college. Initially, she pursued a degree in electrical engineering at the University of Arkansas at Fayetteville, but she quickly discovered major trials with being an African-American female with a disability in the area of math and science. She had difficulty getting her accommodations and being accepted in the program.
"I had really good math skills, but in my sophomore year, I let my professor's doubts get in the way. I didn't have role models of blind scientists and blind engineers. I didn't see people that looked like me, so I changed majors but kept math as my minor."
The Job Search Begins
As Denna neared graduation, she began looking for a job with the help of her college's career services. Denna explained how she kept hitting a wall during her job search because employers couldn't see how a person who was blind or visually impaired could do the work. The staff at career services encouraged Denna to contact Alan Muir, Executive Director of the Career Opportunities for College Students with Disabilities.
"They were holding a conference where I was asked to also be a student speaker," she said. "NASA was there recruiting and asked me would I move for a contract specialist position, and I said yes!"
Starting My Career at NASA
She moved, and after just one year at NASA, Denna was promoted as Disability Program Manager. She was able to use her degree in business administration with a concentration in human resources and her life experience as an African-American and disabled woman to provide expertise in the area of diversity and inclusion. So for the next ten years, she guided, directed, led, and advised staff members in the areas of equal opportunity employment laws, affirmative action, recruitment of students with disabilities and minority groups, and reasonable accommodations for disabled employees.
"When I started in HR, I helped with teaching about disability and accommodations. It was very basic and not much had been done on outreach," she said. "Things got better, and I became the expert. Later, I felt pigeonholed and wanted to move on to other things."
Professional Development and Continuing Education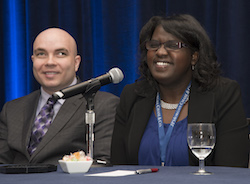 Denna describes NASA as a great place to work with opportunities to advance. During those years in HR, she had gone back to school and earned her master's degree in public administration. NASA provided her accommodations for school, and she worked one-on-one with her professors for everything else she needed. It took Denna about three and a half years to finish because she was working during the day and attending grad school in the evening.
After receiving her degree in 2010, she applied for professional development courses to strengthen her skills and get exposure to different sides of NASA.
"I wanted to know what was happening, like how we manage the Earth side or mission operations," she explained. "It took a couple of years to break out of disability project management, but I wanted more, and I wanted to be seen outside of my disability. I needed to build my resume with more than just Civil Rights initiatives. I wanted to be well-rounded."
Making the Career Leap
It was hard, but in March 2015, Denna made the career leap and became a project manager. During that time, NASA was looking at closing its library because of budget cuts. The idea was to go strictly online and to close the physical location, but the scientists argued that a library for the largest research institute for earth and science was a necessity and needed to stay open. "The challenge before us was to find a way for the library to become a multi-use space," Denna recalled.
So, she put her skills to work. She used both her degrees, having performed in human resources, budget, finance, and communications. She also was knowledgeable in math and science.
"The business skills I learned have helped me with being solution-oriented and bringing in the right people," she explained. "I have learned how to have conversations with people with different skill sets. Talking to an accountant is different than talking to a scientist. You have to learn how to hear other people's expertise."
As a result, the library is achieving its goal of being a multi-functioning facility. Today, there is 3D printing and writable walls available, TVs that display information from mobile devices, and government-wide conferences are held there as well.
Each day Denna comes to work taking public transportation. She uses a guide dog and walks about six blocks from the bus stop to her office building. The Goddard Space Flight Center is setup much like a college campus she says. At her desk, she uses a screen reader on her computer and an iPad with Voiceover for note taking at meetings. Denna doesn't know what the future will hold, but she says that she will continue to keep herself in a "spirit of learning."
Advice to Job Seekers with Vision Loss
"You never have it all figured out, and you should have a network of formal and informal mentors," she said. As career advice for others who are interested in launching a similar career, she recommends that you should have a diverse network and social life. "Get involved with things outside of the blind community, things that non-disabled people can relate to; common things that you can have a conversation about."