Cooking Without Looking—Part 4 with Don White, Chef and Co-Executive Producer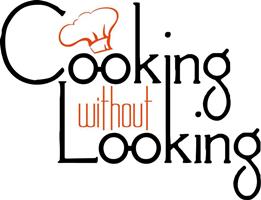 Intro: Often success is not noticed until someone else tells you that you have achieved it. To succeed, Don White says, "Your focus should be on doing what you are doing without being bothered with others telling you that you cannot, nor that you are not doing things the right way. I say, "Bah, humbug!" Read more about Don White, a classically trained blind Chef and Co-Executive Producer of Cooking Without Looking.
The Story: My basic philosophy is to focus on myself and only pay attention to the people who know what they are doing and continue to practice. Right now I am the Co-Executive Producer of the Cooking Without Looking Program as well as Chef of the show. From the age of about 5 years old I was taught by my great-grandmother Greene. She was a full-blooded Indian from Mattawamkeag, Maine, an ancient native American village which borrowed its name from the river at whose mouth it is located. She was the head cook for the Great Northern Lumber Company. She taught me to cook on open fire pits as well as a wood-burning stove, making homemade bread and biscuits and various foods for lumberjacks and others. The following years took me to college where I worked at various restaurants and explored life. During this time I had sight.
In April 1972 I entered the US Army with my focus on mathematics but I continued to have my love affair with cooking and serving people. When the Army sent me to Europe I made arrangements to work in schools and local restaurants to learn cooking. It was a total thrill to me. I learned to develop a sense of completeness. My whole life now centered around cooking and the preparation of food. The countries I learned in were Germany, England, France, Spain, Italy, Austria, Switzerland, Greece, and Israel. I delved into many more types of food, its preparation and other experimentation, as well as combining of techniques.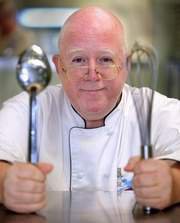 After coming back to the United States, in spite of my culinary experiences in Europe and the Middle East, I ran into many different roadblocks finding work, so other than doing research on computers, my solution was to attend a culinary institute to get a formal education. During my schooling I added all my prior experiences to develop my own style. There were no limits to what I cooked or baked or made as confections. I learned a long time ago not to limit the possibilities of what I can do.
As far as what I do as the Co-Executive Producer for the show, it is doing anything that needs doing. In order to put shows together I help arrange for funding, create recipes, cook onstage, and talk with lots of different people. Anyone who can fund us, sponsor us in other ways, or is just plain interested in what we do gets my attention. There is not one aspect of my position that I do not like.
Oh, by the way, I am also writing a historical novel and a book on food preparation from before the 1500s until today, and I'm thoroughly enjoying every aspect of it. The research alone is so very enthralling and addictive.
Anyway, the people I work with are from every walk of life. From people who have food allergies to people who will only eat their own type of food, no matter what the nationality.
How I became the Co-Executive Producer is an unusual tale. I went blind on October 1, 2005, from an eye operation combined with macular degeneration and aneurysms behind my eyes. Due to going blind, it was more difficult to get a job. With my determination not to let anything stop me from anything I wanted to do, I had been at the time attending a school to help me with my blindness compensatory skills and one of the teachers told me about a radio show and TV show called Cooking Without Looking, so I searched for the show and who had owned it. It is my ultimate luck that I was introduced to Renee Rentmeester. I had done a live show for her in Orlando, Florida. I started as a host for the show, and after doing many things, Renee made me the Co-Executive Producer. To me there is not a thing I do not like about the job.
There are so many things that I can say about learning to cook that empowers people to believe in themselves and all that they do. Once a person does for themselves it opens avenues to progressing on a personal level and allows them to live a fuller life as they so wish. The main thing I have learned to live by is to keep myself open to an avenue that I enjoy and dreamed of doing. This self-appointed rule has worked for me. I hope it will help you, too.
Before I go I'd like to share a couple of holiday recipes with all of APH CareerConnect's readers, users, and mentors, so here goes! Holidays seem to come up with lots of leftovers so here are some things unique, delicious, and fun to make during your visits and celebrations.
First, we are going to make fudge from plain leftover mashed potatoes! Oh, yes, mashed potatoes!
Mashed Potato Fudge
Ingredients
3 oz unsweetened chocolate
4 tbs unsalted buter
1 lb confectioners sugar
1/2 cup mashed potatoes
2 teaspoons milk
1 teaspoon vanilla extract
1 teaspoon kosher salt
1/2 cup chopped walnuts
Method
Place chocolate and butter in a heatproof bowl set over a saucepan of simmering water. Cook stirring occasionally until melted, 3 to 5 minutes. Remove bowl from pan and let cool slightly. Stir in sugar, potatoes, milk, vanilla, and salt until dough forms. Using hands, knead dough briefly in bowl until smooth. Press into a greased 8-inch square pan; sprinkle with the chopped walnuts. Chill fudge one (1) hour before cutting into squares.
Hope this brings a satisfying sweet as well as a use for leftovers.
Homemade Multi-grain Hot Breakfast Cereal
Ingredients
1/2 pound of salt pork
6 cups of water
1 cup hominy grits
1 cup oat meal
1 tablespoon cream of wheat
1 tablespoon of Malt-O-Meal
1 tablespoon of ground cornmeal
1/3 cup heavy cream
1/2 teaspoon of ground white pepper
Method
Take 1/2 pound of pre-sliced salt pork and slice into what is called lardons or lardoons, which is better known as match sticks. Place in a heavy 3 to 5 quart pan. An enamel coated cast iron pan is your best bet. Enameled cast-iron is by far my favorite pan to use for most cooking. I preheat the pan to at least medium temperature then, add the match stick slices of salt pork. Render the fat and leave crisp little match sticks that turn golden brown. Also leave the rendered pork oil. Add the water and let come to a rolling boil. You will notice that there will be froth on the top. This should not bother you, just let it work and cook. Most of the froth shall disappear. Now add the Grits. (If you use 5 minute Grits they will be cooked in 5 minutes. If you use regular grits they take a complete hour to cook. For the holidays I recommend the 5 minute grits.) Cook for 3 minutes.
Then add the 1 minute oatmeal, Malt-O-Meal, cream of wheat, and corn meal. Cook for 1 minute more. As it thickened add 1/3 cup of heavy cream.
Here is a secret that most people do not know, especially if they are on a low sodium diet. Add 1/2 teaspoon of ground white pepper. It makes flavors pop without adding salt in anything you cook. This mixture should be a thicker, creamy texture. If it isn't, add some more of the meals or oatmeal to thicken.
Always taste what you cook to insure you have the flavor profile you are looking for. This can be eaten in a bowl as a cereal or it can also top homemade biscuits. This is great at anytime and more so on the holidays.
HAVE A HAPPY, HAPPY HOLIDAY, EVERYONE!
The Contact: Cooking without Looking; Phone Number: 305.200.9104