Our Stories Interview with Ross Silvers
Meet Ross Silvers. He is the Mobility Manager for Pinellas Suncoast Transit Authority (PSTA); the public transit provider in Pinellas County, Florida. Ross uses the bus as his primary mode of transportation to commute to and from work. Ross believes working provides him with a sense of accomplishment each day and makes him a better family member to his wife and two children. Most importantly Ross is certain being employed allows him to contribute to the betterment of the world. His employment history began with a summer internship as a teenager and it was then he learned how to use public transportation to commute and create additional opportunities for himself. Ross shares his story with the CareerConnect audience in hopes young adults with vision loss will be motivated not to let transportation be a barrier to obtaining employment. After reading Ross' story, if you would like to learn more about his occupation connect with him as a CareerConnect mentor.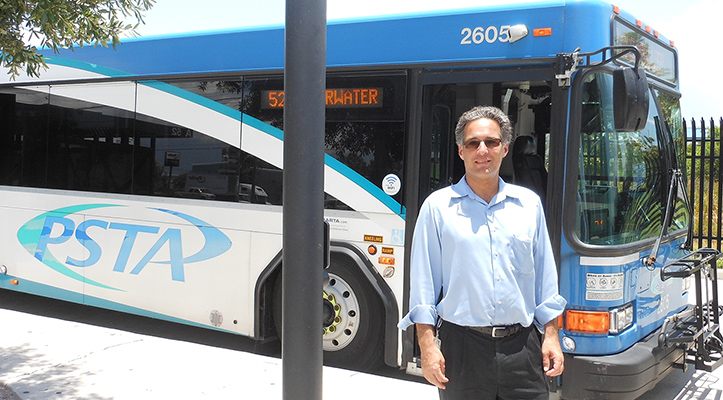 AFB Career Connect: What are your job duties as the Mobility Manager at PSTA?
Ross Silvers: I manage three services related to the transportation of persons with disabilities, low income residents and senior citizens. In my role as Community Transportation Coordinator I ensure safe and affordable transportation for seniors and people with disabilities in Pinellas County. I manage the Demand Response Transportation Program (DART) which is a program for people who, because of their disability, are unable to use the regular accessible bus. I also manage the Transportation Disadvantaged Program which is state funded and provides reduced cost transportation to residents who qualify. In addition to managing the three programs, I also supervise four staff members.
AFB Career Connect: What are the education, training and/or licensure requirements for your position?
Ross Silvers: My position requires a college degree, knowledge of the Americans with Disabilities Act (ADA), experience in management and an understanding of the transportation needs of persons with disabilities, low income persons and senior citizens.
AFB Career Connect: Discuss the education and training you have received.
Ross Silvers: I have a Bachelor of Science Degree in Psychology and a minor in Communications from Tulane University. I have attended numerous trainings on the following topics: disabilities, aging, diversity, supervision and project management.
AFB Career Connect: Describe a "typical" work day in your position at PSTA.
Ross Silvers: My position requires I communicate with others in a variety of ways such as via email, in-person meetings, phone conversations and presentations. I am responsible for document creation, managing calendars and projects, writing and managing contracts and monitoring the compliance of those contracts. My day to day responsibilities also include solving problems. I attribute my success at PSTA to the fact I see things from a different perspective as a person with a visual impairment. Basically, my visual impairment has prepared me to be a better problem solver and to ask questions (bosses appreciate this skill).
AFB Career Connect: What skills and abilities are the most important in your field of work?
Ross Silvers: It is important for me to recognize the strengths, weaknesses, opportunities and threats (SWOT analysis) involved in analyzing changes. Strong communication skills (in person and through technology such as email), patience, persistence, and the ability to multi-task are additional skills I use at work. The ability to build relationships is another skill needed. I have learned to apologize to others when necessary as well as improve from mistakes I may make. As a manager of transportation services for others, it is critical for me to be able to "let go and step up".
AFB Career Connect: Describe your employment path (including your first job) and how you came to work for PSTA.
Ross Silvers: My parents had high expectations of me. In high school I obtained a summer youth internship opportunity with the county government office. I worked hard filing papers while some of the other interns spent time conversing. An employee noticed my hard work and provided me opportunities to complete more challenging tasks and mentor me. You never know what you will get out of a work experience. Even if the work is boring, it is important to work hard.
After college I had an internship in a government human resources office. Since then, I have held many jobs including helping persons with epilepsy obtain employment. I have also worked in the following capacities: Independent Living Skills Coordinator at the Center for Independent Living in Washington, D.C., American Association of Retired Persons (AARP) ADA Coordinator and the Disability Rights Coordinator for the City of Tampa.
Several years ago, I attended a public meeting regarding a bus route I took and the PSTA Chief Executive Officer approached me about a position opening in the near future. A year later the job was posted and I applied (even though I thought I was not well qualified). I landed the job and have been in my current position with PSTA for five years!
AFB Career Connect: What access technology do you use at work to complete your job duties efficiently and effectively?
Ross Silvers: I have had low vision (Optic Atrophy) since birth. Technology contributes to my success at work. I use Zoom Text on my personal computer, the accessibility features of the iPhone for emails and text messaging, a monocular to see power points and navigate airports, and an 11X magnifier to read print. I recently had a low vision evaluation and was prescribed transition lenses to assist with my sensitivity to sunlight and glare.
AFB Career Connect: Describe the accommodations PSTA provides for you and how you asked for those accommodations.
Ross Silvers: I asked for accommodations from the Human Resources Office after I accepted the job offer. They put the accommodations I requested in place before I started work at PSTA.
I was proactive and asked for permission from my former employer to transfer the Zoom Text license to PSTA and PSTA agreed to pay for future software upgrades. I also asked for rides to meetings if the destination was not accessible by bus. As an employee of PSTA, I am able to ride the bus for free and I take advantage of this perk.
During my first week of work, I learned of about an environmental accommodation I would need. I walked right into a glass partition in the building. I laughed about it as my coworkers asked about the Band-Aid on my nose. White paper was taped to the partitions to increase the visibility and yellow tape was placed on some of the stairs I use.
AFB Career Connect: How and when did you disclose your disability to your supervisor?
Ross Silvers: During my interview, my supervisor saw me using my magnifier to read. She was amazed at what I could do with my limited vision and we have since then had on-going conversations about my abilities.
AFB Career Connect: What do you find most satisfying about being employed with PSTA?
Ross Silvers: The most satisfying part of my job is enabling others to use publicly funded transportation as I do for vital trips. I was able to reduce the amount of time and paperwork required to make this happen and thus serve more people in the community.
In addition, I am the only PSTA Manager with a disability who commutes by bus. My travel experience in combination with my knowledge, skills and abilities in the field gives me an internal voice for improving the transportation experiences of PSTA customers with disabilities. As a daily user of the Real Time Bus Information (GPS based bus locator), I enjoy seeing the excitement of new users when they understand the added independence this technology brings them.
AFB Career Connect: What is the most challenging part of your job?
Ross Silvers: Dealing with adversity can be challenging. I have had to learn to not take complaints from the customers I serve personally and how to listen to the concerns of others.
AFB Career Connect: How do you handle stress at work?
Ross Silvers: I walk outside at lunch and do five minute "no sweat" workouts in the gym at work one to two times a day. After work, I go home and enjoy my family.
AFB Career Connect: What are your interests outside of work?
Ross Silvers: I enjoy kayaking, biking (including tandem), attending my kid's soccer games and traveling. I'm also a foodie and enjoy live music and cultural festivals.
AFB Career Connect: What tips for having a successful job interview would you offer young adults with vision loss?
Ross Silvers: It is important to make your interviewer comfortable. If they perceive "something" is unusual with your eyes but do not know why, it could create a trust barrier. It is important to be truthful and honest. Prove your self-assuredness by demonstrating how you read with a magnifier and joke about it so the interviewer sees it as "no big deal" for you. This requires practice with people outside of your family.
AFB Career Connect: What personal attributes are essential for successful employment for a person with vision loss?
Ross Silvers: It is important to be self-assured, to be able to clearly and confidently articulate how you get key tasks done that are impacted by vision loss and to be able to put new acquaintances at ease with your vision loss. Persistence and problem-solving skills are also important attributes.
AFB Career Connect: Discuss what methods of transportation you use.
Ross Silvers: I ride the bus, ride my bike, walk, ride with family members and ride with co-workers. I always plan my trips in advance and have a strong preference for familiar routes. I plan my trips using Google Transit and then use Real Time Bus Information before I leave. I always confirm my route with the driver of the bus and know what automated stop announcement to listen for so I know when to get off. When I need to get somewhere quickly, I ask others for the information I may need to get to my destination.
As a teenager, I appreciated being able to ride the bus. I grew up in Miami where using the bus to get to work was an everyday experience (even for those who could drive). It made me feel equal and was not an isolated experience. Today, riding the bus an hour each way helps me to be productive. On my way to work, I listen to the National Federation of the Blind (NFB) news line, read my email, text, make phone calls, read mail, etc. I use my time on the bus to get things done in a relaxed setting before I get to work and home again.
For teens learning to ride the bus, it is important they receive Orientation and Mobility training. My advice to teens is to take a fun outing on the bus with friends and then take the same trip independently. It is important to always have a lifeline with you on the bus such as a cell phone and extra cash. It is essential for teens to learn to take safe risks, problem solve and interact with the public. Riding the bus is a good way to learn those skills.
AFB Career Connect: What advice do you have for young adults with visual impairments who are seeking employment?
Ross Silvers: You will be happier when you are doing some type of work which extends beyond yourself – even if it is simply helping an elderly neighbor to move a heavy box. I came into my current position with less experience and learned a great deal on the job. It is important to be confident in yourself and your efforts. You can use your experience with vision loss to your advantage (don't hide from being visually impaired). I was able to do so in my current role and in my previous positions with disability rights and working for the Center for Independent Living.