Profiles of Tara Annis and Peter Torpey: Science Mentee and Mentor
See how the alchemy between this science intern and her mentor helped her learn some valuable life lessons.
The Mentee:
After my sophomore year in college, while pursuing my degree in biology, I wanted to enhance my learning experience by seeking an out-of-state internship. About three months later, after filling out a few online applications, I received an email from the University of Rochester in New York inviting me to attend their ten week summer research program. They placed me in the genomics laboratory of Dr. Andrew Brooks, where I would be studying a specific set of genes and their relation to diabetes.
I was quite ecstatic about this great opportunity but also nervous about performing the necessary job tasks as a blind person, so I began searching the internet for answers. Using Google's search engine and key terms such as "blind person" and "employment," I came across the American Foundation for the Blind's CareerConnect website, which is a career exploration and education program for people with vision loss. (For those of you who may not know, APH CareerConnect® has an interactive eMentoring component that I highly recommend so that you can talk to other blind or visually impaired people about their jobs.) What I did was look for a mentor using the keyword "scientist" and to my delight, found a physicist named Peter Torpey working at Xerox, in the exact city where I was going to perform my research!
I contacted him by email and received a prompt reply. He invited me to spend a day with him and his wife, also a physicist, discussing careers in science. I met with them one weekend and they offered to take me out to eat at one of their favorite restaurants. Peter brought some of the devices he uses at work to make his job easier as a person with vision loss, such as a Bookport and a PAC Mate. He also pointed out that larger companies like Xerox might have more money set aside to help people with disabilities purchase adaptive equipment.
After our lunch, we headed to a local park to take a walk. On the trail, we further discussed careers in science for people with vision loss. He and his wife both commented on how it seemed easier for a blind person to enter a more skilled labor field, such as science, because of the technology available. The example they used was that it was easier to be a physicist because of available technology than an employee at a fast food restaurant.
This advice held true because my internship utilized many forms of technology to accomplish various tasks, and I found it quite simple to make adaptations. I used JAWS for Windows to read software programs created to analyze laboratory data. I utilized a closed circuit television (CCTV) to read charts and graphs of diabetes research material. I also took advantage of basic adaptations such as a Braille labeler, to mark test tubes and buttons on machinery.
The advice that Peter and his wife gave me also carried over to other aspects of my life. The positive attitude that he displayed was contagious, and I know I have much to offer as an employee. Thus, I communicate in an assertive manner when discussing my ideas with my supervisor and co-workers at my current job in the Instructional Technology department at Marshall University, where I assist in creating online courses. This experience did not only aid in my internship and current jobs, but also in determining future employment goals. Peter and his wife's interests in running and vegetarian cooking increased my desire to learn more about health and fitness, and I have begun to pursue a future education in alternative medicine.
My overall impression of the mentoring experience was gratitude. The kindness Peter and his wife showed by taking time out of their busy lives to help a total stranger have a worthwhile internship was impressive. As a final note to CareerConnect mentees, if you don't find an exact match for a mentor in your career area, be sure to contact mentors in similar fields. Just as I did, you may find helpful advice from mentors in other career areas. For example, regardless of the type of work you are interested in, you may consider contacting a systems administrator since most jobs will require the use of a computer, and he or she can give you helpful hints on adaptive software, making your job's website accessible, etc.
Although I was very lucky to find Peter, in general, the only drawback of the CareerConnect program that I encountered is the fact that there are still a small number of scientists listed in the database, which limited the number of people I could connect with. So please sign up to be a mentor, especially if you represent an occupational field that only has a few representatives in the program. I can assure you that your participation does make a difference! A big one!
The Mentor: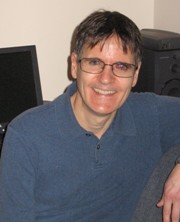 Sometimes you can talk to someone for just a few minutes and be immediately impressed. There's something about the energy in their voice, their enthusiasm, and the confidence they exude that makes you want to get to know them and learn more. That's the way I felt when I first spoke with Tara, who found me through the CareerConnect program. When she called to talk about the challenges and opportunities of a career in science as a visually impaired person, it was a great opportunity and I was happy to share my experiences with her.
I am Peter Torpey and I have worked for over 25 years as a research physicist at Xerox Corporation. At Xerox, although my vision is limited to light perception, I progressed through a very rewarding career and eventually became a Research Fellow and manager of an image-processing team whose responsibilities included developing methods for improving the color and quality of images printed on next-generation printers.
As I told Tara, if there is something you really want to do, there is generally a way to do it. I could tell from speaking with her that she was the kind of proactive person who would be successful in seeking out help, identifying alternatives, and developing solutions. As my son's kindergarten teacher told him many years ago, "Never say you can't … Always say you'll try." That is the kind of attitude which breeds success and is important in working as a professional even if one is not visually impaired. Of course, being visually impaired does have it's own special challenges, but that is why it is particularly important to take charge of one's own situation.
When Tara contacted me a couple of years later I was very happy to hear from her again and see that she has maintained the positive attitude that I'm sure will lead to her continued success. I look forward to hearing from her as new chapters open up in her life and she reaches for her dreams.